A year ago I went to prison. It's probably not what you think though. I didn't steal any cars, if that's what you're wondering. Before I tell you about my experience, I want to tell you why I wrote my latest book—DAY JOB TO DREAM JOB—inside Shawshank Prison.
When I say Shawshank Prison, I mean SHAWSHANK PRISON. I wrote the book inside the same cell where Andy Dufresne (played by Tim Robbins) did solitary confinement. Weird? Maybe a little. Until you realize that 86% of people feel imprisoned in their day jobs. They feel the bars holding their creativity captive.
I knew I needed to write part of the book inside a literal prison. I needed to feel what 86% of people feel every day—CAGED.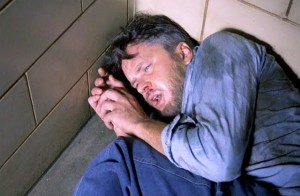 These are the 3 truths that compelled me to write Day Job to Dream Job:
1. Day Jobs are killing people*
STRESS = 70% of American workers experience stress-related illnesses.
BURN-OUT = 34% think they will burn out on the job in the next two years.
HEART ATTACKS = The Los Angeles Times reports that there is a 33 percent increase in heart attacks on Monday mornings.
INJURY = Entrepreneur magazine adds that there is a 25 percent increase in work-related injuries on Mondays.
DEATH = According to the National Centers for Disease Control and Prevention, more people die at nine o'clock Monday morning than at any other time of day or any other day of the week.
SUICIDE = Male suicides are highest on Sunday nights, with men realizing that their careers-and possibly their finances as well-are not where they want them.
* Research from 48 Days to the Work You Love by Dan Miller.
2. Our world and workforce has changed
UNEMPLOYMENT= In the last five years, the unemployment rate approached 10 percent.
JOBS = The Bureau of Labor Statistics (BLS) reports that people hold an average of eleven jobs just between ages 18 to 44.
CAREERS = The average US worker will have many careers-seven is the most widely cited number-in his or her lifetime.
LENGTH = The BLS reports that the median number of years that wage and salary workers remain with their employer is 4.6 years.
ROLES = Studies estimate half of the American workforce will soon consist of freelancers, consultants, independent contractors, entrepreneurs, "electronic immigrants," and so forth.
In summary, the average worker will change her career seven times, hold eleven jobs before the age of forty-four, remain in her current place of employment for less than five years, and probably move into a freelance/independent contractor role.
3. 

Creating your Dream Job is easier now than ever
MORE ACCESS = If you know the right rules and abide by them, no one is beyond your reach.
MORE RESOURCES = If you know where to go, the world is at your fingertips, literally.
MORE CONNECTED = If you can get online, you can run your businesses.
MORE INCENTIVE = If you don't have to stay, why would you?
MORE INSTRUCTION = If you read this book, you can plan and implement your escape.
Here's a peek at me inside the prison:
I'm sitting in Shawshank Prison right now, writing this book.

I made the trip to Mansfield, Ohio, to the Ohio State Reformatory—the prison used to film The Shawshank Redemption—with one single purpose in mind. I wanted to start off this first chapter literally inside the prison cell. I wanted the door slammed shut behind me and with it any chance of hope for escaping. I wanted to remind myself how I used to feel, completely separated from any chance at freedom.

I'm in the exact cell where Andy served solitary confinement as punishment for playing his famous anthem of freedom. Although it's June, this cramped room feels strangely cool. The lady who let me in tried to convince me that this entire prison is haunted. As if the ghost tour signs don't give me enough warning.

I'm not going to lie. It feels a little spooky. Unlike a mainstream museum, overpopulated with people, this one feels quite lonely. Come to think of it, I'm the only person in this entire block of cells. (OK, now I'm starting to scare myself.)

Trust me. These cells haven't been cleaned for decades. All the proof you need is the old, stained mattress in the cell next to mine.

It all feels so odd because the last two years I've been free. Although I'm living my dream job today, it's easy to forget how many years I spent stuck in my day job. I've vowed never to lose perspective and empathy for those still stuck.

That's why I came back.

For you.

I've seen too many causalities to stay silent. A former Citizen of Shawshank, like Andy, I've since found my own Zihuatanejo.

Don't worry. Before we're done that will all make sense—including Zihuatanejo. But in the simplicity of this moment, in the words of Andy, you only have one of two choices—get busy living or get busy dying.

I hope you choose to get busy living. And if that's your choice, then keep reading—so we can get busy planning.
————————–
QUESTION: Why do you think so many people stay stuck in their day jobs? What keeps them from making a change?
(Please comment below. I'd love to hear your thoughts. And if you know someone who needs to read this, please encourage them by sharing this post. Day Job to Dream Job releases worldwide on Tuesday, August 5th or here today via advance copy.)