Start Seeing Yourself As a Freelancer
You should become, what I call, a Functional Freelancer™.  Doesn't matter if you're "traditionally employed" as a long-term contractor or not.  Take a quick peek at the differences: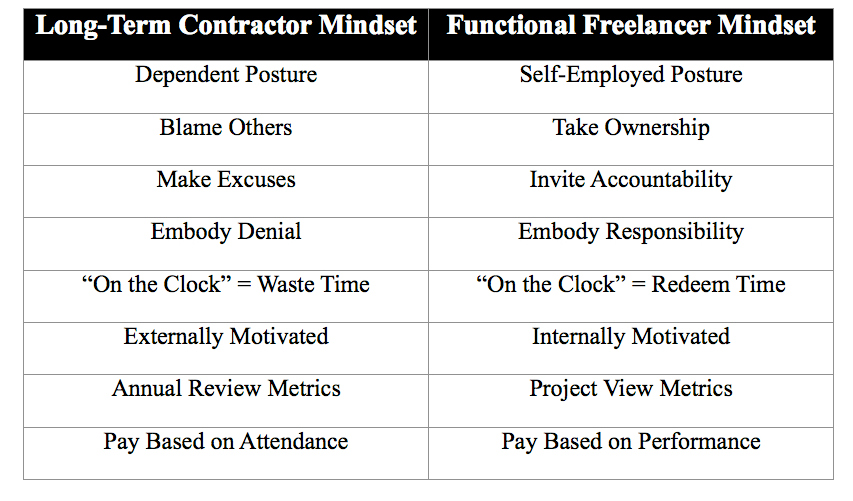 Seeing yourself as anything other than a Functional Freelancer creates prison-like conditions (Tweet This or Share on Facebook). The way you see yourself, regardless of your job title, matters. Just like Andy Dufresne back in Shawshank. He may have been imprisoned on the outside, but he maintained a mindset of freedom on the inside. And as a result, Andy escaped.
When you adopt a Functional Freelancer Mindset, something exciting often happens. You begin to see your current employer as one, large billable client.
You can fire billable clients.
You can serve billable clients.
You can respect billable clients.
With billable clients you have choices and options. You move from grumbling to gratitude.
This new mindset isn't just for employees either. I coach all my clients toward becoming a Functional Freelancer. Doesn't matter if you're a CEO of large companies or a Founding Partner of a startup. If you see yourself improperly, you soon become imprisoned, no matter how big the paycheck.
3 Reasons why Functional Freelancers are Superior:
Some long-term contractors feel internally motivated and take responsibility, but these are the exceptions. Remember the Gallup survey? Only 3 out of 10 employees are engaged in their jobs. The remaining 70 percent are disengaged or actively disengaged. This long-term contractor mindset costs "up to $550 billion annually in lost productivity." 
Functional Freelancers are different. Rather than costing money, they add value. They don't receive a paycheck for showing up. They hustle to get theirs. This mindset creates people hungry for growth. Functional Freelancers realize that as they add value to themselves, they make themselves more valuable.
Functional Freelancers are highly aware of market trends. They know the unemployment rates, the average stay in jobs, and the fact that half of the American workforce will soon consist of actual freelancers.
This knowledge doesn't create fear. Instead, it creates the fuel you need to develop your own brand.
Functional Freelancers recognize the better they become, the better clients they attract.
Living in Columbus we saw this played out over the span of two football seasons. The Ohio State Buckeyes had an amazing 2010 season with a record of 12-1. When Jim Tressel resigned on May 30th, 2011, his assistant coach Luke Fickell was named interim coach. Although not ideal conditions, Fickell coached his best and led the Buckeyes to a 6-7 season.
On November 28, 2011, Urban Myers replaced Fickell as head coach. (Aware of his natural skill, Myers repositioned Fickell as co-defensive coordinator.)
Some complained about the quick replacement. Others cheered. Myers didn't care about public opinion. Instead, he went on to recruit a talented 2012 class leading the Buckeyes to a 12-0 season. Some of the best players in the country came to OSU because of the new coach who led the team. The coach brought the players and the players brought the wins.
In business, the Functional Freelancers bring the clients and the clients bring the wins.
Start becoming the CEO of YOU
Time to accept the truth.  If you don't like  your results, change them. You have no boss to blame. You are the CEO of a company called YOU.  Celebrate National Boss's Day by quitting your job. Adopt a Functional Freelancer mindset instead.
QUESTION: What are some other reasons why people should become a Functional Freelancer? (Please comment below. I'd love to hear your thoughts. And if you know someone who needs to read this, please encourage them by sharing this post)