I'm excited to announce the launch of my first self-published eBook! After weeks of writing, editing, and formatting, I'm pleased to now share with you: The Igniting Souls Manifesto. It's based on a message I believe in so strongly that I left my day job because of it.
About the manifesto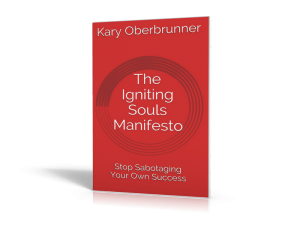 The Igniting Souls Manifesto is a small eBook about getting unlocked and unstuck. Truth is, most of us don't need an enemy. We sabotage our own success quite successfully. Time for the world to feel your fire as you find your voice.
This short manifesto asks you some epic questions and then provides some simple answers. Reading it will inspire you. Applying it will ignite you.
I intentionally made the eBook short so you could read it in one sitting. There's even a few pictures (or at least diagrams).
"When you read Kary's work and see his heart prepare to be ignited. Thousands already have and I am one of them." –Scott Fay // Author of Discover Your Sweet Spot and Vice President of the John Maxwell Team
How to get a copy
The Igniting Souls Manifesto is available for $2.99 on Amazon (via Kindle).
But you can also get a free copy of The Igniting Souls Manifesto by joining my newsletter list.
This will automatically subscribe you to my best content and other occasional goodies (e.g. free trainings, exclusive tools, special offers, and such). I will always respect your privacy, and you can opt out at any time. Once you confirm your email address, you'll receive a private link to the PDF that you can download.
Once you've read it…
If you've already read The Igniting Souls Manifesto – Thanks! This little ebook is a compilation of thoughts I've been thinking about for the past 10 years. I'm honored you took the time to read it. So please let me know…what did you think?
Share your thoughts and feedback in the comments below. If you liked it, you are welcome to share it with others. Here are a few ideas:
Tweet about it.
Share it on Facebook.
E-Mail this link to a friend.

Print it and give

a copy to a coworker or other writer (just don't charge for it or change it).
And here are some other ways to get involved:
Share your thoughts and takeaways on Twitter, using the hashtag #ignitingsoulsmanifesto

Join the Facebook community, where you can connect with other souls on fire.
To read other reactions and reviews, check out the endorsements page.
Write your own manifesto
One outcome I'm hoping is that this manifesto inspires you to write something. Several already have.
If you publish something as a result of reading The Igniting Souls Manifesto, please share it. If it's online, feel free to include the link in the comments below, as well as on Facebook and Twitter (be sure to use the hashtag #ignitingsoulsmanifesto). I can't wait to read your work. It's time we hear your voice.
If you're not sure how to write a manifesto, check out my blog article: How to write your own manifesto and become an author overnight (COMING SOON). I share an incredibly simple strategy. 
Grab a free copy
Are you ready to stop sabotaging your own success? Enter your email below to get a FREE copy of my eBook The Igniting Souls Manifesto. Once you confirm, I'll send the ebook link straight to your inbox — no charge. Thanks for stopping in. But before you go, please comment below (if reading this in an email, click here).
Just let me know your name, where home is for you, and one of your favorite movies. I'll start: (Kary Oberbrunner // Columbus, OH // Tree of Life). Can't wait to meet you.