Your book launch is coming someday soon
Trust me. Sometime in the near future you're going to launch your own book, product, service, business, or cause. The past 2 years I've received countless emails asking me how we've done so many successful launches.
Rather than doing my DAY JOB TO DREAM JOB launch undercover, I've decided to pull back the curtain. Through a private facebook group, exclusive videos, personal emails, and special calls, I'll show you the system we've created to successfully launch your own book, product, service, business, or cause.
(I share more thoughts in this video below.)
In the future we'll sell this system to our select clients. However, for those that want a FRONT ROW SEAT all you need to do is pre-order DAY JOB TO DREAM JOB. (You'll need the book because we'll reference the tools within it throughout the launch.)
Just send a copy of your receipt to: team "at" dayjobtodreamjob.com (replace "at" with @ symbol). Once you do, we'll immediately add you to the private facebook group and the bonuses and benefits will start flowing your direction. 
Join us for a special call
If you, have questions…if you don't know me or about book launches…or if you're just plain curious before you join the VIP BOOK LAUNCH TEAM then register for this free call on June 16th. I'll explain all the details and answer any questions.

If you already know me, then you know I OVER-DELIVER. You know I'm committed to exceeding your expectations. For these people, I'm sure you'll pre-order the book today and secure your spot on this VIP team.
If you're curious what you'll learn from the book, then read below: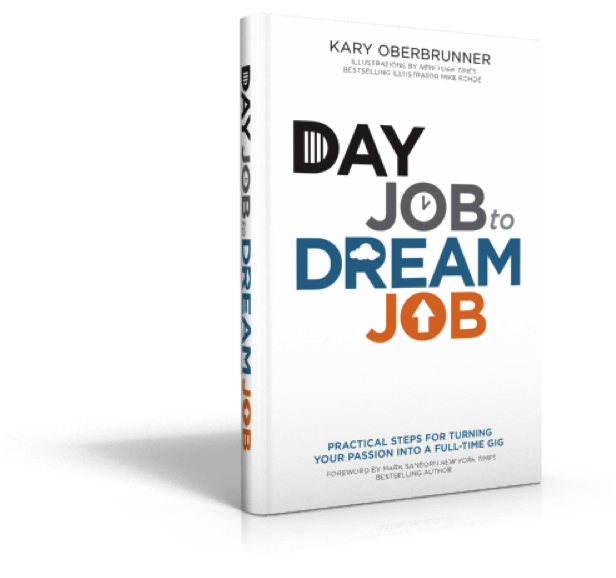 SHORT DESCRIPTION = Millions of people are squandering their talents and wasting their time in jobs they don't love. They feel trapped and dissatisfied, afraid to risk their financial security to pursue their dreams. But anyone can make the leap from day job to dream job–with the right amount of knowledge, encouragement, and guts. I will show you how to launch your dream job and experience the freedom to go as you please, earn as you wish, and live as you like.

Kary's 9 proven steps will help you "jailbreak" from your day job without relying on an MBA, investors, or a lucky break. Discover how to:
overcome self-limiting beliefs that sabotage success

start lean and stay lean by ignoring conventional thinking

build a dream team of experts committed to your cause

carve out a niche and get noticed in a noisy world

market beforehand to create critical momentum

monetize your message to its full potential

achieve personal clarity, competence, and confidence

earn greater influence, impact, and income in the marketplace
(Here's a little peek how the content is already changing people's lives)