We Were Hacked!
Good Friday didn't start out that good for us.
Thursday I wrote a post called—If my 8-year-old can get published you can to. Here's how. 
The post was scheduled to publish on Friday morning. I invested several hours writing about unique tricks, tips, and tools to help you get published for free. I did this labor of love because I believe in helping you get your message out to the world.
When the post published on Friday morning I got great feedback within the first few minutes. People said it encouraged them and equipped them on their own writing journey.
But shortly after, we started receiving a few comments from people who checked the post on their smart phones. Evidently, some links in the post were leading them to some nasty porn sites. UGHH!!
We Took Action!
Talk about frustration! My business partner (David Branderhorst) and I immediately went into action mode:
We unpublished the blog post
We deleted all our social media mentions of the post
We sent an email message warning our subscribers NOT to open our first email
We told our Igniting Souls Tribe about the situation
We contacted our web hosting service so they could track down the hackers
We hired an outside professional service which cleaned and secured our 1/2 dozen sites
We took a deep breath and remembered our true OPUS—IGNITING SOULS
You Loved on us!
Whenever something unplanned like this happens, you wince and wonder:
Did we tick off our tribe?
Did we erase credibility?
Did we lose loyalty?
Your trust is something we're willing to fight for. Quite frankly, it's one of our highest concerns. After our apology went out, we received a flood of positive comments. Actually, our little trial taught us 3 things about YOU:
1 – You share our mutual values
We both uphold integrity.
Tomi Grover tweeted: "Impressed by the quick actions to correct a post that was hacked! @karyoberbrunner THANKS for doing everything to protect your tribe (see below)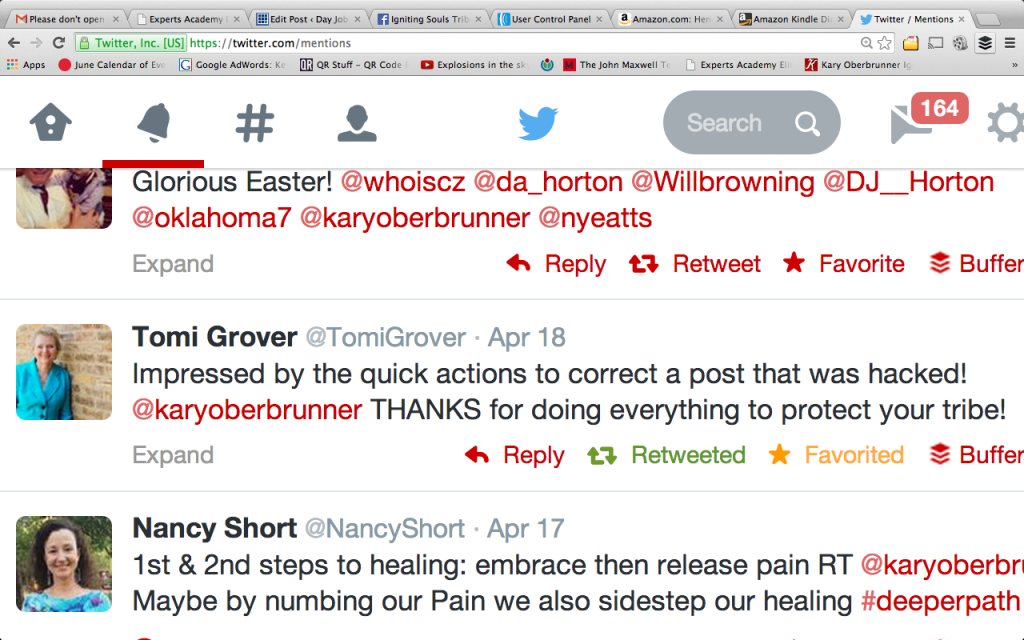 2 –  You share our inspiration
We both steward our message seriously.
Hi Kary.  I noticed a couple days ago that when I went to your site about writing a manifesto some bad stuff popped up.  I could tell enough about your character that I knew it was some shenanigans going on.  I just deleted the junk and went on to your site. I would like to thank you for making the manifesto available.  It stirred something within me.  I started writing a blog in November that I did not feel released to publish until 3 weeks ago.  In 3 weeks I have had over 300 views.  I am pretty psyched about it and praying about writing a manifesto from it to see where it might go. Thank you for inspiring me to think bigger. 
We both share mutual trust in each other.
No worries Kary. Besides,

it would take a lot of work for you to ever lose the trust established with me

. Take care and keep going, looking forward to being on The Deeper Path Team!
We're Loving Back!
David and I feel truly honored to serve such a transformational tribe. You are amazing.
In spite of all the drama, I knew knew the content in that original blog post was very powerful. My 8-year-old son's ebook (Henry Ford, The Model T, and Me) shot up through the ranks, securing a #1 Amazon bestseller position in his category instantly (see below). I felt disappointed I had to unpublish that post because I knew it would help you in your own publishing journey.
So, here's what I am going to do instead…I'm going to shoot some more love back to you.
I'm going to strip out all the links from that first post and rewrite it. I want you to get all the tips, tricks, and tools. I believe you can become a #1 Amazon bestseller too. Keep your eyes peeled for the revised post in the next few days.
And as always, thanks for your trust, support, and prayers. IGNITING SOULS is one big OPUS. We're blessed to have you with us on the journey.